The plan to "electrify everything" that is rapidly taking over all economic and policy planning around the world means that mining for metals and minerals will increase dramatically to supply demand for technologies like EVs and so much more.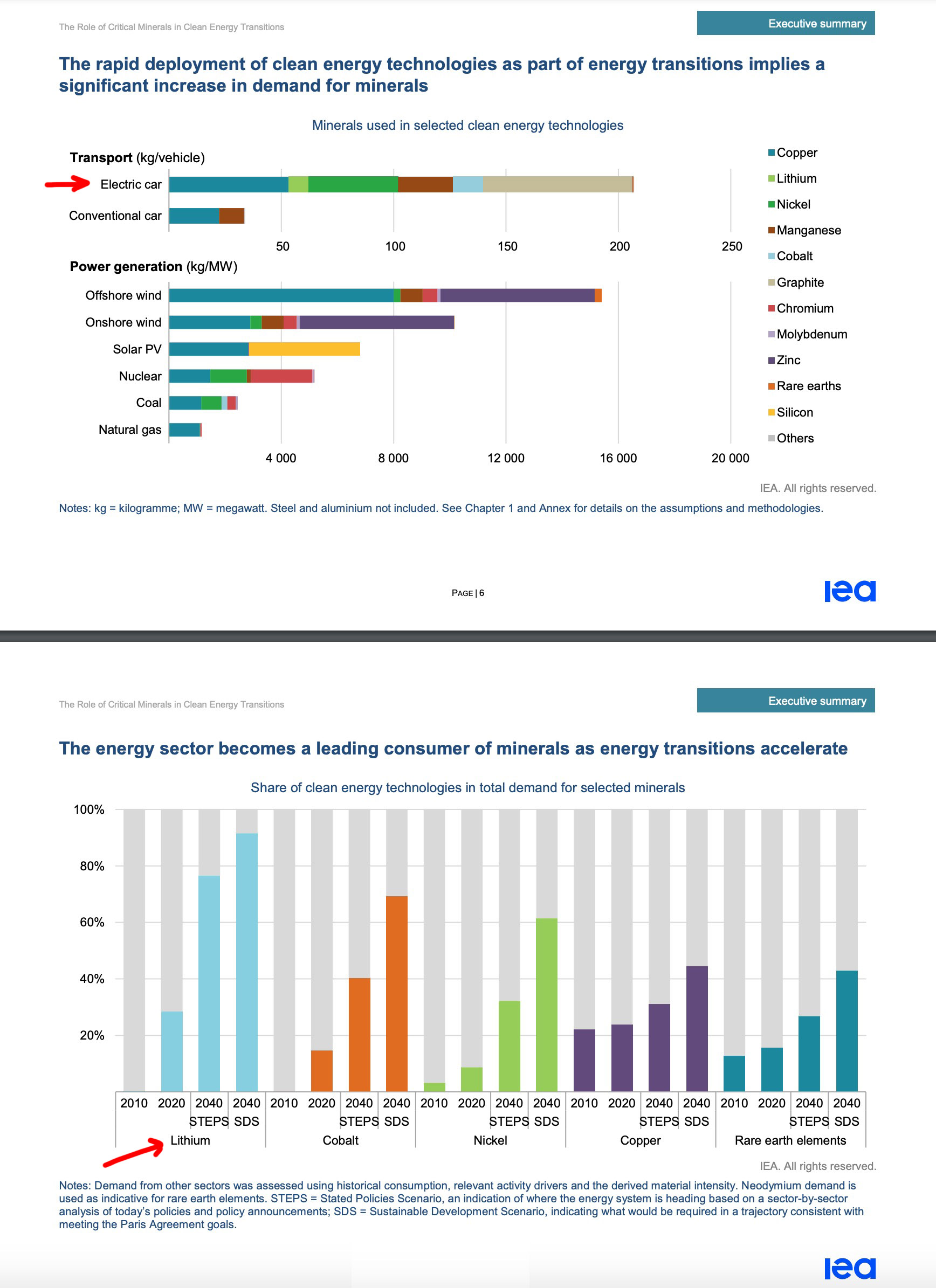 Take a look at this image from the International Energy Agency (IEA) report "The Role of Critical Minerals in Clean Energy Transitions", and you can see how the demand for various metals and minerals will skyrocket in the coming decades. The IEA writes in this report that "Clean energy transitions will have far-reaching consequences for metals and mining."
And, as we've posted here before, they write: "…mineral demand for use in EVs and battery storage is a major force, growing at least thirty times to 2040. Lithium sees the fastest growth, with demand growing by over 40 times in the SDS by 2040, followed by graphite, cobalt and nickel (around 20-25 times)." (SDS refers to a Sustainable Development Scenario tool the IEA uses to project demand for energy to meet the various scenarios laid out under the Paris Climate Agreement goals.)
In a separate report, "Net Zero by 2050: A Roadmap for the Global Energy Sector", the IEA writes: "The energy transition requires substantial quantities of critical minerals, and their supply emerges as a significant growth area. The total market size of critical minerals like copper, cobalt, manganese and various rare earth metals grows almost sevenfold between 2020 and 2030 in the net zero pathway. Revenues from those minerals are larger than revenues from coal well before 2030. This creates substantial new opportunities for mining companies."
They write "substantial new opportunities for mining companies" as if it's a good thing. As if all of this mining isn't destroying life on planet Earth. How policy makers and the corporations with they work with can go forward with these plans without seeing the devastation that they will cause is just incomprehensible.
Metals mining alone causes > 50% of all environmental pollution annually in the US. This % is likely to increase dramatically with the prospects of the fast growing mining sector thanks to Biden's executive order to ensure domestic supplies of metals and minerals.
Mining is the most destructive human activity on Earth. Those who promote "net zero", "clean energy", and "clean technology" like EVs want MORE of this destructive activity at a time when we know that we are in a sixth mass extinction, that habitat loss and over development are causing far more species and biodiversity loss than any other factor, and that without healthy, clean, intact ecosystems on Earth we doom ourselves along with countless other species on Earth to certain extinction.
Some have said that the Thacker Pass Lithium mine is a "benign" mining project, especially in comparison to other kinds of mining, like copper mining. But as you can see from the image above from the IEA report, EVs require large amounts of copper, which will lead to an increase in copper mining. Lithium is just one of many metals and minerals required by "clean technology" such as EVs, so you can't separate a supposedly "benign" lithium mine from all those other kinds of mines: they go hand-in-hand, because if you want to build EVs you need all of these materials too, not just lithium.
(Note that we do not see the Thacker Pass Lithium Mine project as any more "benign" than any other kind of mine — digging a massive pit in the ground and piling toxic waste rock and tailings on the land destroys the land no matter what kind of mine it is.)
Reducing energy demand is mentioned only once, as a passing thought, in the 224 page Net Zero report and only once in the 287 page Role of Critical Minerals report.
Art by Kim Gillis: The blood of the Earth and all who have been sacrificed to mining, car culture, and industrialization. Thank you Kim!
References:
UPDATE: An expanded version of this article appears in The Sierra Nevada Ally.