Photograph: (left to right) Myron Smart, Will Falk, and Ian Bigley
By Ian Bigley for Progressive Leadership Alliance of Nevada
In late March of 2021, PLAN staff and supporters visited Thacker Pass where a land occupation protest is ongoing in opposition to a massive Canadian owned lithium mine proposed for the site. Thacker Pass is on Northern Paiute lands in northern Humboldt County near the border with Oregon. It is just to the south of the Fort McDermitt Paiute Shoshone Reservation, and west of the quiet ranching community of Orovada. The mine was fast tracked for approval in less than a year through the National Environmental Policy Act (NEPA) based on Trump administration executive orders. Such a timeline is unheard of for complex mining projects which often result in intergenerational impacts.
In addition to the land occupation, Great Basin Resource Watch, Basin and Range Watch, Western Watersheds Project, and Wildlands Defense filed a lawsuit with the BLM challenging the legality of the environmental review process. A local rancher also filed a lawsuit challenging the process.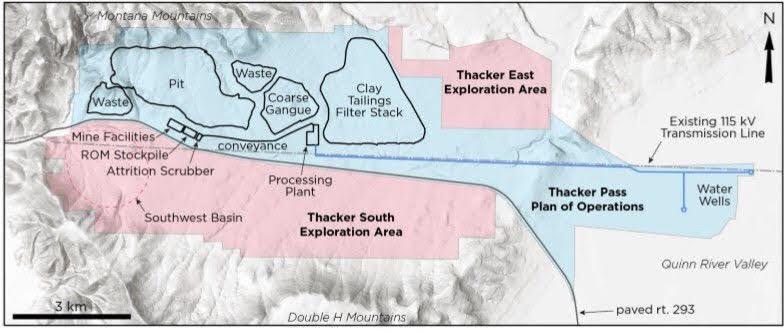 Thacker Pass, pictured above, is a low area with a sagebrush ecosystem connecting the Quinn River Valley and Kings River Valley. This region is an important winter habitat for mule deer. The Montana Mountains to the north are home to sage grouse breeding grounds and golden eagles. The area is rich with Paiute history that spans thousands of years of sustainable occupation; something our western society is failing to achieve. The lithium deposit results from ancient volcanic activity which also produced significant amounts of obsidian which served as an important stone tool material.
The second image is what Lithium Americas plans to do to this area, which entails the entire panoramic photo above. A massive open pit would be the center of the project and waste rock would be piled on either side. The waste rock to the west of the pit would be adjacent to Thacker Creek which flows from springs in the mountains and is carpeted with watercress.
The company claims they will fill the open pit after mining, which is not required by Nevada or federal law! However, materials under the earth take thousands of years to stabilize. When brought to the surface and exposed to air/water this material becomes dangerous, and can't return within a human lifetime. Independent analysis from geochemists at Great Basin Resource Watch points to groundwater contamination as water flows through the reclaimed pit area, and would require at least 300 years of active water pumping and treatment post-mining.