About Protect Thacker Pass
Why are we protesting?
Because we envision
A world in which we prioritize the health of future generations.
A world in which we live in harmony with the natural world, rather than relying on extraction.
A world in which blowing up a mountain for lithium is just as unacceptable as blowing up a mountain for coal.
The McDermitt Caldera spans northern Nevada and southern Oregon. This is the driest area in the USA. The mine plans to use 2,600 acre-feet (850 million gallons of water) per year in phase one, and 5,200 acre-feet (1.7 billion gallons or water) per year in phase 2. Other planned mines in the rgion will likely similar water use. 
What do we want?
We want people to understand that lithium mining is as dirty as coal mining.
We want to stop Lithium Americas from further physically disturbing Thacker Pass, and stop all mining companies from physically disturbing the McDermitt Caldera region. 
We want the world to know what is happening here.

We want the current administration to rescind Lithium Nevada's Thacker Pass Lithium Mine Project permit and HiTech Minerals' McDermitt Caldera exploration permit. 

We want the current administration to withdraw the entire McDermitt Caldera region from federal mine leasing.

We want the current administration to designate the entire McDermitt Caldera region as a National Monument using the Antiquities Act.

We want the current administration to reduce our nation's dependence on cars as part of an emergency shift to a "degrowth" economic paradigm. A detailed description of our solutions is available here: Solutions.
What's the status of Lithium Nevada's Thacker Pass Lithium Mine Project?
After an expedited permitting process under the Trump administration, the Bureau of Land Management (BLM) approved Lithium Americas Corporation's plan to build a massive lithium mine and refinery at Thacker Pass on January 15th, 2021.
Construction was repeatedly delayed due to our protest camp (which was on-site from the day the project was approved until October 2021), lawsuits, and concerted opposition from regional Native American tribes, environmental organizations, and the local farming and ranching community. As of March 2023, construction has begun. LNC contractors began doing preliminary site preparation (water line, roads, etc.) in March 2023, and full construction on Phase 1 of the mine began in June 2023 and is ongoing.
The previous lawsuits to stop the project culminated in February 2023 when Judge Du ruled against all three plaintiffs (the tribes, rancher Ed Bartell, and the four environmental groups).  Shortly after this decision, Reno-Sparks Indian Colony, Burns Paiute Tribe and Summit Lake Paiute Tribe filed another lawsuit. Will Falk, co-founder of Protect Thacker Pass, is representing the Reno-Sparks Indian Colony and Summit Lake Paiute Tribe in this litigation.
But these lawsuits are not everything. We are using many strategies to fight this mine, and expect the battle for Thacker Pass and McDermitt Caldera to continue for some time.
What is the status of the Jindalee/HiTech Minerals Lithium Mine Project?
Coming soon…
Learn More and Take Action
About Thacker Pass
Thacker Pass is a physical feature in Humboldt County Nevada, part of the McDermott Caldera approximately 60 miles northwest of Winnemucca. It was formed 16 mil + years ago, is traditional and unceded territory of the Paiute and Shoshone people, and is United States Bureau of Land Management (BLM) public land. The traditional Paiute name of Thacker Pass is Peehee Mu'huh meaning "rotten moon." Now it is also the site of a massive lithium mine under construction, that is destroying the area and valuable habitat for the creatures who live there.
It is a stunningly biodiverse, wild, expansive, and beautiful desert in the mountains.
The lithium mine is "to supply the electric car industry".
Thacker Pass is habitat for:
Crosby's buckwheat (rare desert wildflower only found in this area)

King River pyrg (a critically endangered snail)

Rabbitbrush
Jackrabbits
Big horn sheep
Coyotes
Golden Eagles
Sage grouse
Long-billed curlews
Pronghorn antelope

Old Growth Sagebrush 

and many others
Location of the Thacker Pass Lithium Mine: North-central Nevada
Detailed directions to the mine construction site at Thacker Pass: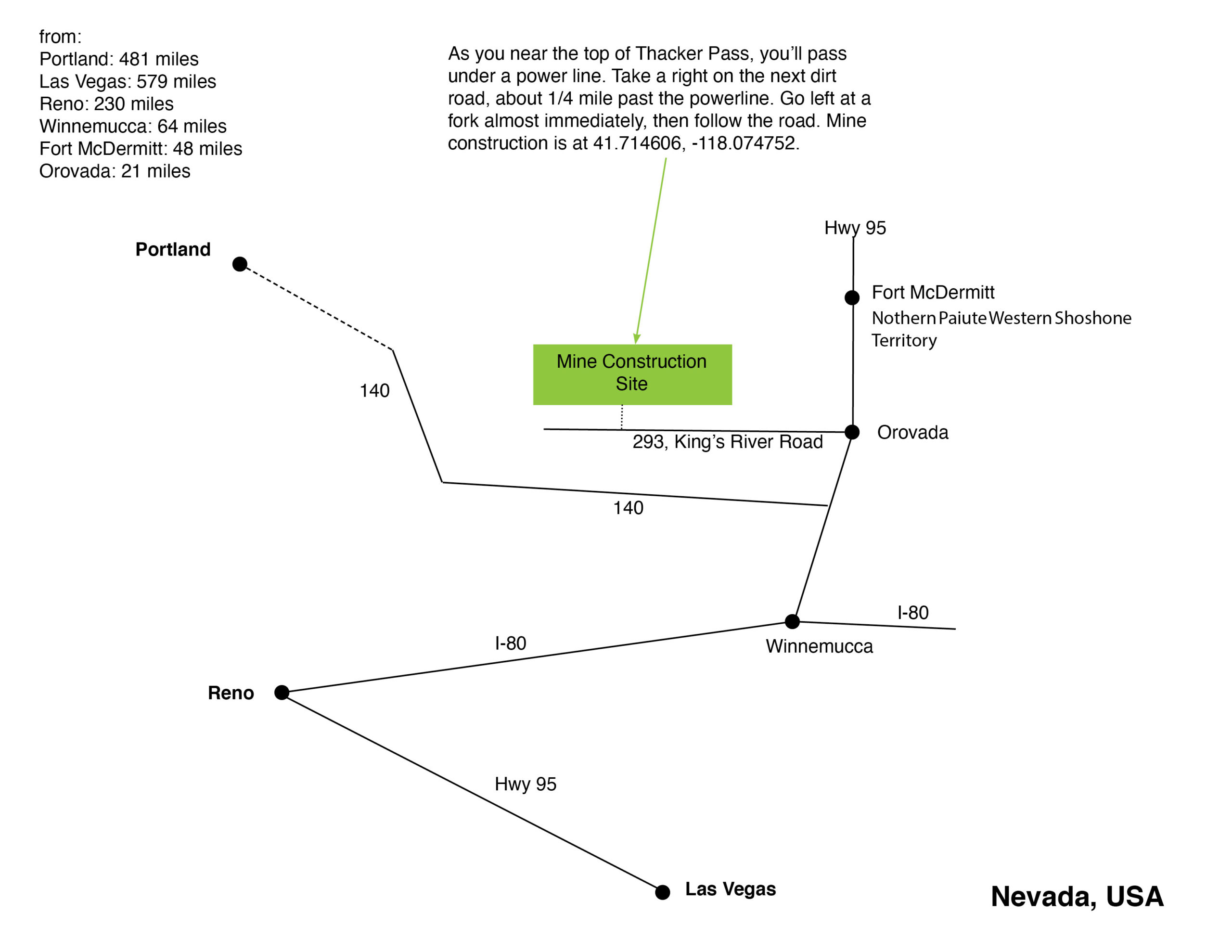 Currently, we are asking that you do NOT go to the site due to a variety of risks, both for yourself and for Protect Thacker Pass.
About Lithium Mining
"The future demand for lithium is truly staggering…. Battery demand is rising at the rate of one to two new lithium mines per year, growing to two to three mines per year by 2020." — Mike Kobler, CEO, American Lithium, exploring lithium mining in Southern Nevada
Lithium Americas is a Vancouver, Canadian-based company. They have begun construction of a mine spanning 5,000 acres including an open pit that will be roughly one mile across and two miles wide. The mine will burn around 11,300 gallons of diesel fuel per day. It will provide up to 25% of global lithium supply.
Lithium is present at 2000-9000 ppm (0.2-0.9%)
Producing one ton of lithium will require strip mining and processing between ~110 and 500 tons of Earth.
The end product is lithium carbonate or lithium hydroxide.
They are building a sulfuric acid plant at site to convert molten sulfur into sulfuric acid to leach the lithium from clay stone. Following the leaching, the lithium bearing solution is purified using crystallizers and reagents to produce battery grade Li2CO3.
Hundreds of Tons of Sulfur (waste from Oil Refineries) will be trucked in and burned every day at the mine site (roughly 75 semi loads of sulfur a day).
This in turn will produce thousands of tons of Sulfuric acid every day, up to 5800 tons a day.
Factsheet
For more information on Thacker Pass and the Lithium Americas Mine, download our Factsheet (PDF).
FAQ
Frequently asked questions about the project are answered in our FAQ.
More resources are available on our Resources page (see below).
Timeline
The Protect Thacker Pass Campaign Timeline.
Resources
On our Resources page, you can find:
links to statements of opposition to Thacker Pass Lithium Mine project from various groups;
links to the various documents related to the project, such as the Final Environmental Impact Statement;
a factsheet about the mine, ways you can help Protect Thacker Pass, and information about security culture;
posters you can share in opposition to the mine project;
and more.
Want to get involved?
As a movement for the health of our earth, the people that live here, and the health of the ecosystems necessary for life of any kind on this planet, we are always expanding, growing, learning, and resisting. If you feel called to help Thacker Pass and/or help with related actions, we would love to hear from you!